The thermal insulation is an essential factor to improve the energy efficiency of a building. An appropriate insulation means to reduce winter heat loss and to avoid summer heat input, generating a big heat and air-conditioning saving.
The Technical Building Code stablishes a series of criteria and solutions to ensure the greatest possible reduction in the energy consumption used in our buildings. One of these solutions is the external thermal insulation composite system.
At QROMIA we are working with many external thermal insulation solutions, and even though all of them are equally effective, we will recommend one or another depending on the construction type (new one or renovation), building and budget.
ETICS (External Thermal Insulation Composite Systems)
The ETICS consist of a prefabricated thermal insulation board which can be made of expanded polystyrene (EPS), extruded polystyrene (XPS), rock wool or expanded polystyrene with graphite -a fiberglass mesh united with cementitious adhesive mortars that works as an armor-. It becomes completed with an exterior waterproof layer, which can variate depending on the desired final look of the facade.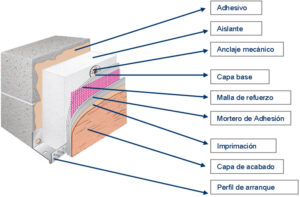 The main benefits of ETICS system are:
Thermal bridges removal in pillars, forged fronts, shutter boxes, etc.

Condensation risk reduction.

It's waterproof and water vapor permeable.

It doesn't reduce the interior habitable space of the house.
We have executed more than 25.000 ETICS square meters in the Balearic Islands. We're approved applicators by leading producers, so we can offer a lot of technical solutions and guarantees depending on client necessities.
All our workers are part of our own team and they have homologated formation in ETICS system.
PROJECTED CORK
The current demand in the construction sector requires more and more eco-efficient environmental materials. Thanks to its great virtues and characteristics, cork is considered one of the materials with the highest level of sustainability currently implemented.
Among the main characteristics of the projected cork system, we can highlight:
Regulates the temperature of our home. It works as a thermal corrector reducing thermal bridges in facades, walls, cornices, moldings, balcony overhangs, and slab fronts.
Acoustic improvement. Acoustic absorber, minimizing impact, exterior and aerial noises. Acoustic absorption coefficient according to NP EN ISO 354.
Prevents micro-cracks. Its high flexibility allows it to absorb structural stresses, preventing the appearance of micro-cracks.
Prevents condensation. It is highly permeable to water vapor, preventing condensation.
It guarantees durability. It has an excellent durability, with a 10-year guarantee, and requires no maintenance..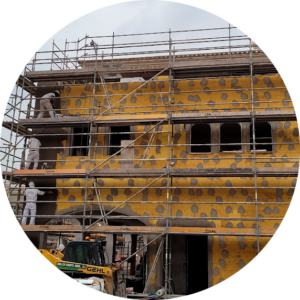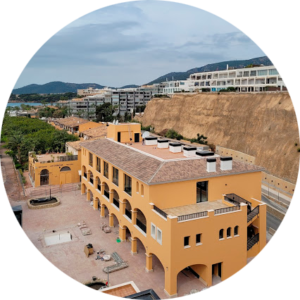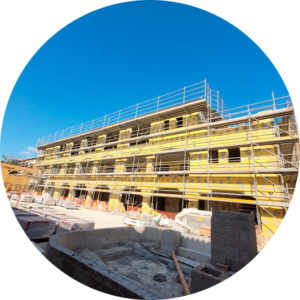 "A journey of a thousand miles begins with a simple step."