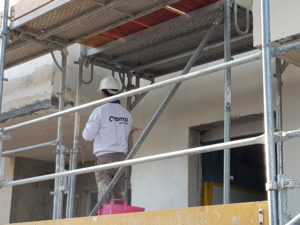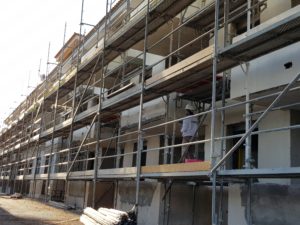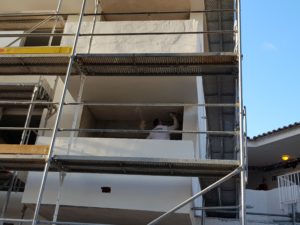 QROMIA started this December the cladding Works of the facade of the Sotavento Club-Apartment façade. The Sotavento Club-Apartment is a hotel for adults only, located in the area of ​​Torrenova in Magalluf and which has already undergone a first phase of reform in 2014.
The current facades of the hotel are treated with a decorative and protective coating on cement base, mono-layer type arid projected. In front of the pathologies detected, inherent to the degree of conservation of the building, as well as to its degree of maintenance and exposure, it has been selected as a solution, CAPAROL product provider and for the application of the basic protocol of action in the rehabilitation:
Cleaning with water under pressure of all the affected supports, including the preventive protection biocidal CAPATOX, in areas with fungus and mold infestation.
Treatment of the support with CAPATECT 186 M adhesive mortar and CAPATECT-GEWEBE 650 mesh, which guarantees its durability over time, as well as the maintenance of mechanical values.
Application of the adhesion promoter and retainer PUTZGRUND 610, to finish making the decorative coating and protector AMPHISILAN COMPACT, silicone resin in a polished and broken white color.
QROMIA goes hand in hand with Baltyc, a company of GRUPO FERRATUR. Baltyc undertakes the main works that has as delivery date in mid-February 2018.