QROMIA continues to grow in its different lines of business thanks to the trust of its customers and suppliers. In this case, we talk about the line of high-end waterproofing both on terraces and roofs, based on systems of liquid polyurethane membranes, prefabricated sheets or polyurea.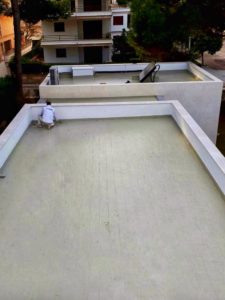 At the beginning of December, we delivered the waterproofing work for the terraces of a luxury home in Alcudia. The solution implemented has been through the application of a waterproofing membrane system with Sikalastic 612 based on polyurethane, from the Sika manufacturer. The roof, completely passable, complies with the Regulation (CE) nº 1907/2006 regarding chemical substances and preparations (REACH) and with the ETAG 005 W 2, it is guaranteed for 10 years.
At the end of December, we will start the waterproofing of the roofs of the Sol Cala d'Or Apartamentos hotel. The work to be carried out has an approximate area of ​​1,600 m2 distributed in several buildings, with the peculiarity that it is inclined roofs. In this case the chosen technical solution is the same, based on a waterproofing membrane with Sikalastic 612. Additionally, a sealing layer of Sikafill400 will be applied in order to maintain the white color required by the hotel property.
It is planned in mid-January also start the waterproofing of roofs and roofs of two hotels also with solutions based on liquid membrane.