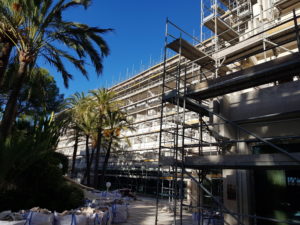 2018 could not start better for QROMIA. Thanks to Grupo Ferrá, we start remodeling and covering the approximately 9,000 m2 façade of the ALLSUN HOTEL PALMIRA BEACH. ALLSUN after acquiring the hotel to Palmira Hotels, is committed to the remodeling and expansion of the Hotel Palmira Beach, one of the emblematic hotels of Paguera, located on the beach of La Romana.
The technical solution to be applied will divide the facade into two actions. The first action to be applied in balconies, will be based on the repair of damage and edges of slab, manual application to mortar trowel with an approximate thickness of 2-3 mm, placement of 160 mesh and finally a layer of finished mortar plastered in white and water-resistant. The second action will be applied to the rest of the facade, will consist of the application of coating and waterproofing paint facade.
ALLSUN Hotels belongs to Alltours, one of the leading tour operators in Germany and currently has more than 30 hotels spread across 5 estinations.