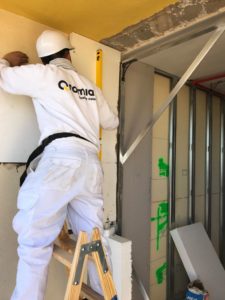 QROMIA has started today the execution of the ETICS sample that will cover the facade of the future Hotel Sol Jamaica. Meliá International in its personal commitment to perform the Magalluf area plans to open Hotel Sol Jamaica and a Mall center in mid-2018, so it will add 270 rooms plus 4,500 square meters of premises and 3,500 meters squares open to the public.
The ETICS is an exterior insulation system for the facade and is used for the thermal insulation of buildings, both new and renovations. Among the advantages of the ETICS system, we highlight: Elimination of thermal bridges (pillars, forging fronts, shutter boxes, etc.), reducing the risk of condensation, they are impermeable to rainwater and permeable to water vapor.
ETICS systems that incorporate an insulation with an optimum thickness ensure drastic reductions of the energy dissipated to the exterior, demonstrating a decrease in fuel consumption close to 30-35% and allow a consistent and continuous energy saving.